Unique Finds
With a passion for chasing nostalgic and unique merchandise, we hunt out cool stuff at area auctions, flea markets and thrifts. Our favorite offerings are Made-in-the-USA and we love preserving antique Connecticut manufactured goods.
Silverplate, milk glass, primitives all blend happily with rustic, reclaimed wood and funky mid-century modern. You'll also find seaside, coastal-inspired treasures along with keepsakes from local crafters.
Operating Hours
WINTER (January | February | March)
SATURDAY > 11:00 am- 4:00 pm | SUNDAY - FRIDAY (random by chance, or by appointment)
SPRING (April | May )
SATURDAY + SUNDAY > 11:00 am- 4:00 pm | MON - FRI (random by chance, or by appointment)
SUMMER (June | July | August)
DAILY 10:00 am - 5:00 pm (and by appointment)
AUTUMN (September | October | November | December)
SATURDAY+ SUNDAY > 11:00 am- 4:00 pm | MON - FRI (random by chance, or by appointment)

Like many traditional mom-and-pop shops, our schedule is soft. When there are lots of folks out-and-about, we'll keep the doors open later, but if it is inclement outside, then we know customers aren't likely to visit, so we may lock up. We try to honor our posted times but you can vVisit our Facebook page for announcements or to send a MESSAGE.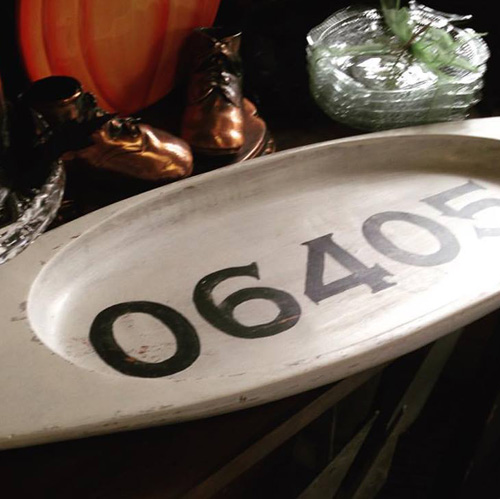 I had such a pleasant experience visiting this shop! The owner, Barbara and her staff member Sue were so warm and welcoming!
The store is great with lots of good stuff. I should have bought that chest.
Owners Claudio & Barbara were top notch and super friendly to us visitors. Can't wait to go back.
---
Open 24/7: our online shop
When our shop is closed, you can still browse through hundreds of items that we offer for sale by visiting our online Etsy store: Brightwood Lane. Enter the coupon code "PICKUP" to eliminate the shipping cost if you would like to come to Stony Creek Depot to collect your purchase. (Items are still subject to 6.35% CT sales tax). Here is a sample of what we've got stocked today.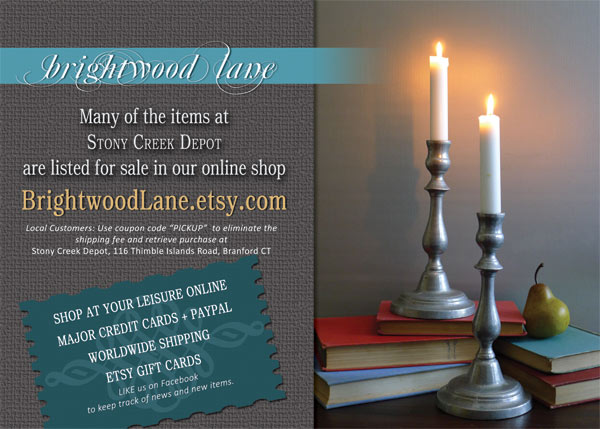 ---
Gift Cards
We use the SQUARE system and take every form of payment: cash, credit cards, checks, ApplePay and encourage the use of chip credit cards for consumer protection.
We also sell programmable gift cards.
(pretty fancy-schmancy, huh?)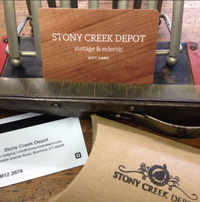 Tag! You're "it"
We don't play games with pricing:
our items are prominently tagged so shoppers don't have to wonder while browsing.
The market value is determined through online research since our vintage items are also sold online
(we've shipped all over the globe).
We have flexible pricing on some vintage pieces.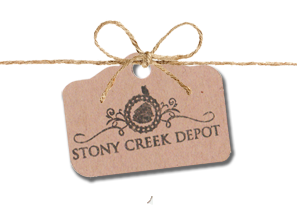 Proprietors
Claudio Riccitelli, Owner/Craftsman
From our workshop, Claudio performs magic on many of the antique furniture and vintage pieces that come into the shop in need of TLC. Claudio's talent with transforming reclaimed material and salvaged furniture makes for some of the more interesting upcycled inventory that we sell at Stony Creek Depot. A 1984 Providence College graduate with 30 years' professional contracting experience throughout the state of CT, Claudio's specialty trade with tile and stone installation now encompasses carpentry and finishing work\. Visitors to the shop may hear the occasional high pitched tone of the table saw or drill driver, you know that he is back there working on another masterpiece for the floor. Claudio is happy to show off the SCD man-cave - it's literally a gigantic granite boulder looming over his work table that forms the building's rear support wall.

Claudio is a CT Licensed Home Improvement Contractor who supports capital improvement projects on historic St. Mary's Church (Hillhouse Ave, New Haven) where he has directed the renovation and curation of the St. Ann's chapel and sacristy. He's also a member of the Knights of Columbus and enjoys the opportunity that affords for community outreach.

Barbara Lucas Riccitelli, Owner/Merchandiser
What could be a better job for a dedicated shopaholic (or hoarder) than scouting flea markets, auctions and thrift stores buying treasure? Barbara procures merchandise from local and national sources to keep the shelves stocked with unique, vintage-inspired inventory. Her Villanova University communications degree and marketing experience in South Florida's international yachting industry fostered the skillset she applies to her present entrepreneurial goals. Her love of the antique and unique in her own home was the genesis for the online shop she launched in 2013 (Brightwood Lane on Etsy) and now the brick-and-mortar Stony Creek Depot. Barbara and Claudio enjoy brainstorming to tranform tired spaces into comfortable, modern amenities with a mix of eclectic finishes.

As Big East basketball fans, Barbara and Claudio don their alma mater colors avidly during March Madness. Barbara's greatest fan moment occured in Houston for the 2016 Championship game with classmates from the victorious Class of '85: an accused "Villanova snob" she is proud to be a Wildcat and bad influence on her 10 nephews and nieces.

Sue Ruocco, Sales Manager
How would we manage with out the energy of Sue Ruocco in the shop? Her enthusiasm for customer service and merchandise display make their mark on a weekly basis. A former Stony Creek shopkeeper herself (and part-time assistant to one of CT's premier corporate floral designers), she's a long time village resident who knows the local area intimately and is quick to offer out-of-town visitors suggestions for local attractions and restaurants. Sue keeps the shop floor in top shape: a gargantuan task (with 1,000+ items to maneuver and online listings to update) and she's quick to whip out a paint brush or polishing cloth if an item is in need of freshening - or grabbing the sidewalk displays if a New England rain cloud passes overhead.

Sue also works for the College Street Music Hall directing the Urban Dance Initiative (a project she founded) and earned a degree in stage management from the prestigious Yale School of Drama. On Tuesday nights, Sue volunteers at the New Haven soup kitchen - and there is no dog that passes by Stony Creek Depot that she doesn't hand a Milk Bone bisquit. Arf!

Dexter the Dog, Greeter (trainee)
A skilled Tennis Ball Tester, Dexter is aspiring to be our shop mascot once we are certain that he won't dash down Thimble Islands Road in pursuit of the neighborhood chipmunks. He's all terrorist, uh,... terrier: still in training for over 2 years to respond to "come"! As a an alumni of Little Black Dog Rescue (Fairfield), we are pleased to coach him to his best possible canine manners and wish Dex to be an ambassador for adult pet adoption.

STRONG HANDS NEEDED!
We are always looking for muscular guys (or gals) to help us move furniture or assist with property maintenance.

If you own a pickup truck we can use your help with pickups and deliveries to nearby towns. Interested? email us your contact detail.
---
Almost famous
Can you keep a secret? We shouldn't brag, but everyone else does and if you can't toot on your own website, what's the use?
We've shipped great vintage items to be used as props in theatrical productions, films, and even some big name retailers like: a set of wood paddles to Ralph Lauren, a shaving mirror to Brooks Brothers in Manhattan and wonderful children's fishing poles used by Woolrich for a tradeshow display.
One of our weathered wood buoys made it on the cover of Coastal Living magazine. And if you see a cool, white tin pail on a Mad Men rerun episode, well....*wink*.